Digital Thermostat for Marine Refrigerators & Freezers
Thermostat for boats & yachts refrigerators & freezers
All sea lovers and boat owners know that the standard mechanical thermostats supplied with most boat refrigerators work fine for two years max. Unfortunately the likelihood that these mechanical thermostats will fail when you are out there at sea and your freezer or refrigerator is full of perishables is high merely by probability…plus add to it Murphy's Law!
When you are at sea you want everything to work just as it should and without any surprises and unforeseen issues. One thing you know is high on your priority list is a refrigerator in the best operating condition, because if it stops working you know what will happen to all your food and produce. One key to efficiency in any refrigeration system is a strong and accurate thermostat!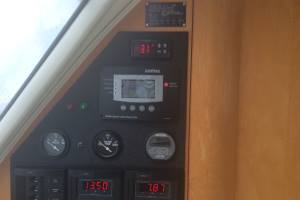 Mechanical thermostats are valued for their simplicity, but a digital thermostat outperforms mechanical thermostat when it comes to maximizing performance and reliability…which is absolutely paramount when you're out there on your boat or yacht.
If you are shopping for a digital thermostat for boats and yachts, the AKO programmable digital thermostat is a name to remember! It is a professional European made thermostat suitable for any refrigeration and freezer system with no limit of equipment size. This digital thermostat is universally suitable for all boat refrigerator systems. Whether it's built–in icebox typical of most weekend boaters, fishermen boats freezers for storing their catch or keeping frozen bait fresh or any larger boat refrigeration system for extended cruising range.
This AKO universal digital thermoset installation is straightforward.
Remove the existing thermostat, and unplug the wires from the old thermostat to the compressor/condenser unit.
Mount the digital thermostat outside of the cooled space where the temperature display can be easily seen.
Mount the temperature sensor in free air space near the evaporator, but not touching the evaporator wall as was the old sensing tubing. It is very important to route the sensing wire where it will not be easily damaged. Keep it clear of main power wiring.
Precise desired operating temperatures can be obtained, and there are several other parameters that can be adjusted.
AKO thermostats can be configured to display degrees in Fahrenheit or Celsius.
Power availability varies depending on your boat type. The most common options are 12V/24V, 120V 230V.
For programing and setting the temperature read the directions carefully. It may seem quite daunting at first read, but it`s really a very user friendly digital thermostat in comparison to other programmable thermostats for boats.
Here's an important tip that can increase the lifespan of your evaporator plate: don't turn off your refrigerator when leaving the boat. The thin walled aluminum evaporator is about the thickness of a soft drink can and is subject to corrosion when at room temperature. It's difficult to repair once corrosion sets in. make sure you keep it cold since the low temperature will slow the rate of corrosion and extend the life of the evaporator.